This is a 1 day guided river trip down the River Medway. All equipment is supplied including dry containers for your gear. You can choose between tandem canoe or kayak and a qualified BCU leader will accompany the group throughout the trip and provide basic instruction to help you complete the journey and enjoy the day. 

Cost £75  (canoe & equipment for 2 people which equates to £37.50 per pers)

This trip starts at Tonbridge Slipway and finishes at Yalding (click here for map and directions) The trip includes 13km of flat slow moving river which usually takes approximately 5 hours to paddle. A trip of this duration and distance can be physically demanding so please do bear this in mind.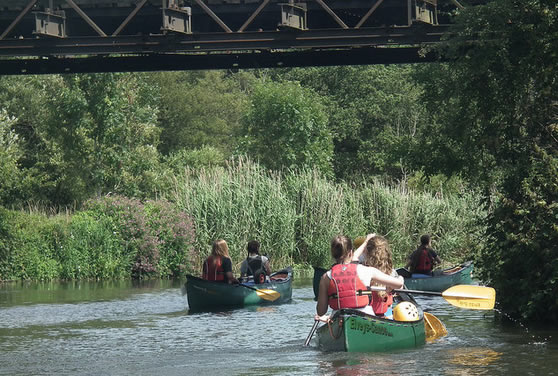 There are 6 canoe passes of varying difficulty which adds an element of fun and excitement to the trip. There are options to carry around all of these if you don't want to risk getting wet! We stop for lunch about halfway down so make sure you bring food and drink for the journey.

Click here for a recommended list of things to bring on our guided trips.

Guided trips do not include transportation back to the starting point for the group. For those requiring group transport we can provide details of local taxi firms that offer 4/6/9 seaters at reasonable rates or Yalding Train Station is only a few minutes walk from the finish with good links back to Tonbridge. You may also want to consider the Yalding Up and Down trip instead which does not involve any transport logistics.

For more information about this stretch of river check out the Medway Canoe Trail website.

We offer guided canoe and kayak trip for groups of 10 or more people. Please get in touch if you would like to arrange a trip for a group.